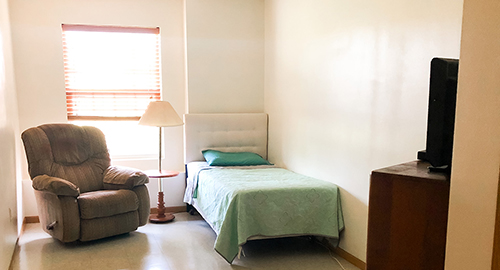 Private Rooms
We have 11 spacious and homelike rooms and most include your own private half-bathroom, closet, and window with a view.
Rooms are furnished, unless you choose to bring your own favorite furnishings if you wish. Basic cable and local television are included. Local telephone calls (calling cards may be purchased for long‑distance). 
Control your own room temperature.
Personal items are encouraged as they provide comfort and familiarity. We will provide you with basic linens, soap, shampoo, toilet paper and facial tissue.
All meals, beverages and snacks included.
A registered nurse experienced in the special nutritional concerns of senior citizens is on staff. All meals and snacks of regular diets are nutritionally balanced and served family style. Specialized diets require additional charges if food expense exceeds regular diet charges. Individual preferences are easily accommodated and residents have access to the kitchen. Dine with the group and your family in our common kitchen, dining area. Coffee, tea, & assorted beverages available. Bring your favorite recipes and coach the cooks.
Rooms Available
Spacious and homelike, furnished private rooms with their own private bathroom.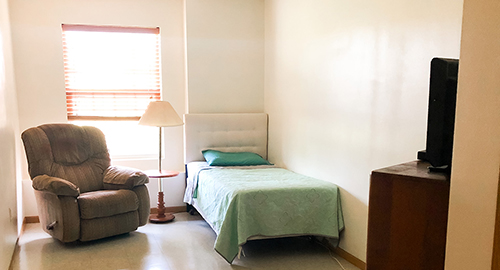 Single Rooms
Single rooms provide comfort for one person.
Private Bathroom
Single or Double Sized Bed
Daily in-house meals included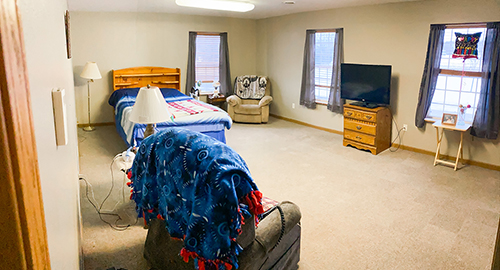 Double Rooms
Double rooms are available for a couple, who wish to stay together.
Private Bathroom
1 or 2 Double Beds
Daily in-house meals included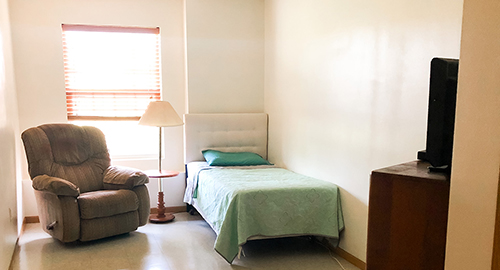 Top Floor Rooms
Top floor rooms are available.
Private Bathroom
Single or Double Sized Bed
Daily in-house meals included
Have a Question or need more information?
Ask Scott & Allie